posted on 09 Apr 2010 13:59 by takato
The year 2009 is almost ended. We have explored and reviewed so many useful tools and resources for you all the year. Today, we are going to take a look on few of the web apps we have featured that we think you would like bookmark for 2010. I hope designers, developers and programmers will like this list, but you can also use them and will love them whether you are an office worker, a manager, a supervisor, a student, a home user, etc. They are really amazing in respect to their features. This is the list of 69 Coolest Web Apps Of 2009 at Work. Just take a look at them and share your thought's here.
You are welcome to share more useful web apps that will be helpful for our readers/viewers may like. Do you want to be the first one to know the latest happenings at SmashingApps.com just subscribe to our rss feed and you can follow us on twitter and do not forget to become our fan on facebook as well.
Advertisement
An easier and faster solution for cross-browser testing. You can preview and test your web pages on leading browser and operating systems. This will help you get your results in real time, from virtually any computer connected to the internet.
Are you stuck sharing feedback in text documents and email? Notable makes it possible to put your feedback directly on the webpage, highlighting your points exactly. With Notable you can quickly and easily give feedback on design, content, and code on any page of a website or application without leaving your browser.
With Google's free online calendar, it's easy to keep track of life's important events all in one place. With Google Calender, you can let your family and friends see your calendar, and view schedules that others have shared with you. You can get event reminders via email or have text messages sent right to your mobile phone.
With Wix you can create a free website or make free MySpace layouts and Flash MySpace layouts. It's the simpler, faster, better way to build & design on the web.
Zapproved is a lightweight Web tool that makes group decision-making faster, easier and more accountable. It is a unique solution that introduces peer-to-peer and organizational techniques to improve the process of building consensus.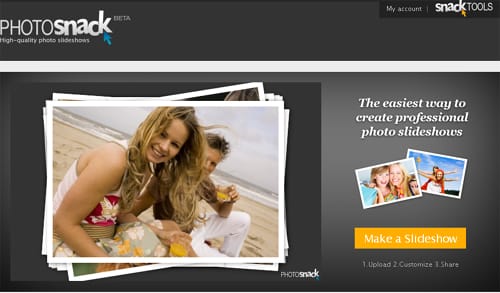 With PhotoSnack it's easier than ever to upload photos, create great photo slideshows, and share them with your friends and family. And by the way, it's free.
You can use this service for free online storage and document sharing. You can store files up to 5GB, and share with anyone, and collaborate on a single document. It will allow you to view Microsoft Office Word, Excel and PowerPoint files from your Web browser.